Raquel
Gallego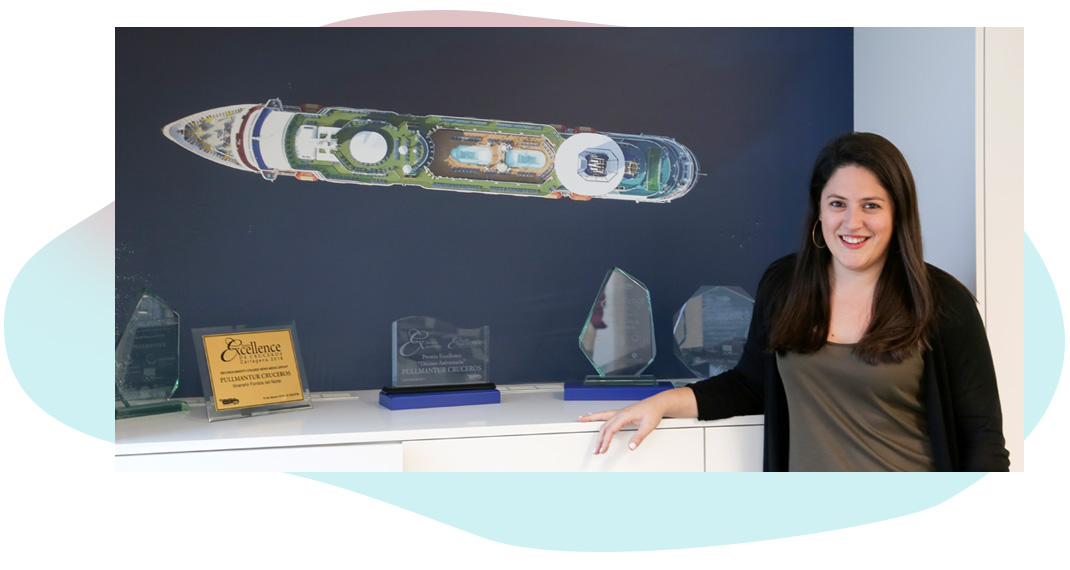 Charter responsible at Pullmantur Cruises
Raquel Gallego's professional career is closely linked to Pullmantur Cruises, where she has held a variety of jobs in the operations department (2004 – 2014). This experience has given her a deep understanding of daily onboard operations and has allowed her to manage and lead direct communication with the different ships of the fleet
This stage proved to be fundamental for Raquel to take a new step in her career, joining the Full Charter division in 2018.
In this division, she handles the negotiation, coordination and execution of these special projects, being the liaison between the clients, the Operations Department and the different teams on boardz
In this position, Raquel was responsible for organising the first fully accessible cruise in Europe in May 2018, which was attended by approximately 2,500 passengers with and without disabilities
Raquel has a law degree from the Autonomous University of Madrid and a Master in Tourism Business Management from the University of Comillas (Madrid).
Pullmantur Cruises
Pullmantur Cruises is the only company in the market that offers a personalized, flexible proposal tailored to the way each of our guests travel, and committed to the Spanish and Latin lifestyle.
It is a company made up of enthusiastic, attentive and committed people; who enjoy taking care of the details that enable their guests to enjoy every moment. Its crew –the very heart of Pullmantur Cruises– have won the Excellence Award for ten consecutive years.
With a fleet of four vessels, it navigates a wide range of itineraries that cover the Mediterranean, Caribbean and Arabian Seas, as well as seas in northern Europe and the Atlantic Ocean.
Contact
Please do not hesitate to request any material you might need by emailing at:
Address
PREDIF Estatal
Avenida Doctor García Tapia, 129
28030 Madrid
Phone
Technical Secretariat – 34 91 371 52 94
Press and communications – 34 91 730 82 15
Email
congreso@tur4all.com
comunicacion@tur4all.com